국제
South Korea's Olympic figure skating gold medalist Kim Yu-na was granted honorary citizenship of Los Angeles on Friday.
Kim won her first world championship title in the U.S. city in 2009, a year before she won the Olympic gold medal in Vancouver.
"Los Angeles is very special for me as I became the world champion here in 2009. It's a great honor to be an honorary citizen of this city," the 19-year-old figure skating champion said at a ceremony held at the Los Angeles City Council marking the occasion.
On Tuesday, the L.A. City Council unanimously passed a resolution to mark Aug. 7 as "Yu-Na Kim Day," which was submitted by council members Herb Wesson and Tom LaBonge. Both councilmen represent Korean communities in their respective districts.
Kim signed her autograph on four ice skating boots, which will be kept permanently in the L.A. city hall.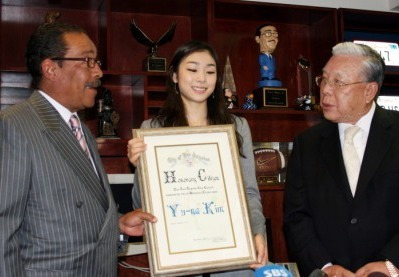 (Yonhap)
Kim will head to Toronto, Canada, on Sunday where she trains with her Canadian coach Brian Orser to prepare for the new season.
Kim has recently said that she will skip the Grand Prix series competitions that starts in October, participating only in the world championship next year.
From news reports
Copyrightⓒ Herald Media INC. All rights reserved.