국제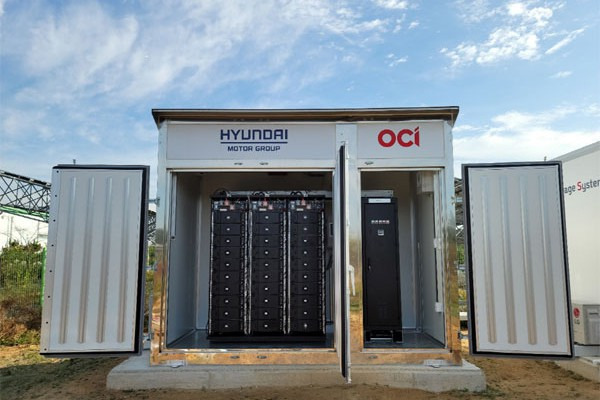 Hyundai Motor Group, South Korea's second-largest conglomerate by asset, has joined hands with chemical and green energy company OCI Co. to reuse electric vehicle batteries at solar power plants as it moves forward to establish an environmentally-friendly resourcing system.
Hyundai Motor Group said on Sunday that it will launch a demonstration project that links energy storage system (ESS) reusing discarded batteries from EVs with solar power plants. The project comes after the government, in a regulatory sandbox program, allowed Hyundai Motor and others to carry out projects that upcycle waste EV batteries to develop ESS.
Under the pilot project, Hyundai Motor will store energy generated by its solar power plant inside its Ulsan factory in a two-megawatt-hour (MWh) ESS before supplying it to an external power grid. Two MWh is enough amount of energy for five four-member households to live on for more than a month.
The project is expected to improve environment-friendliness of reused EV batteries and maximize stable supply and effectiveness of volatile renewable energy sources such as solar power, water power, wind power, tidal energy, and geothermal heat. Data achieved from the pilot project will also help settle related licensing regulations at home.
OCI will use waste EV batteries of Hyundai Motor Group at solar power panel-use ESS operated by its subsidiary OCI Power. OCI has already installed an ESS that utilizes Hyundai Motor Group's 300-kilowatt-hour reused EV battery at a 727-kilowatt solar power plant in Gongju, South Chungcheong Province.
OCI plans to carry out an analysis comparing the performance of reused EV batteries of Hyundai Motor Group at its ESS and other new batteries.
Hyundai Motor Group has been putting out efforts to take the lead in projects that reuse waste EV batteries. In 2018, the conglomerate that owns Korea's two biggest automakers Hyundai Motor Co. and Kia Motors Corp. entered into a partnership with Finland-based global energy firm Wartsila. Last year, it also signed various technology partnership agreements with Korea Hydro & Nuclear Power, Powerlogics, OCI, and Hanwha Q Cells.
[ⓒ Maeil Business Newspaper & mk.co.kr, All rights reserved]
ⓒ 매일경제 & mk.co.kr, 무단전재 및 재배포 금지