국제
Kim Jong-un's younger sister still clearly in charge of inter-Korean affairs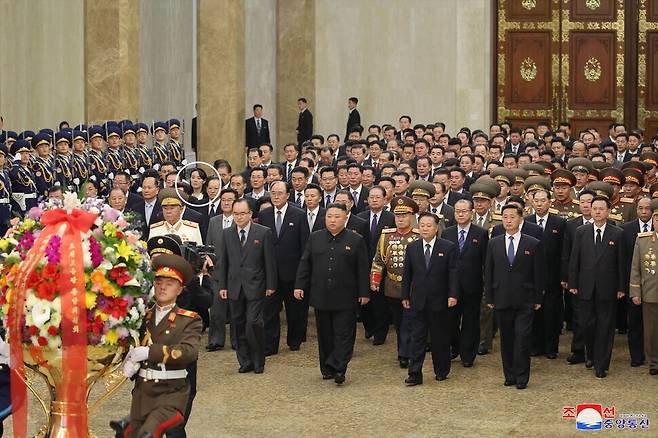 Kim Yo-jong, younger sister of North Korean leader Kim Jong-un and a senior official in the Workers' Party of Korea (WPK), released a statement criticizing South Korea's "precision tracking" of North Korean military parades, describing this as "a clear expression of the [South] Korean authorities' hostile approach toward [their] fellow countrymen in the North."
While Kim Yo-jong was technically demoted during the 8th WPK Congress, her statement effectively clarifies that she's still in charge of North Korea's policy toward the South.
"The joint chiefs of staff of [South] Korea made a senseless statement that they captured the [North] opening a military parade at midnight on Jan. 10 and [that] they are in the middle of making precision tracking," Kim said in a statement released on Jan. 12 and published by the Korean Central News Agency (KCNA) on Jan. 13.
Kim described this as "weird' and as "a clear expression of the [South] Korean authorities' hostile approach toward [their] fellow countrymen in the [North]."
"As I warned before, all these things must surely be reckoned up in the future," Kim concluded. Her statement didn't appear in the Rodong Sinmun, the party organ published for the consumption of the North Korean public.
The most noteworthy aspect of Kim's statement is that it describes her as the "vice department director" of the WPK Central Committee, lower than her previous rank of "first vice department director." In the 8th WPK Congress, Kim lost her position as alternative member of the Politburo, but she has maintained her seat, though at a lower rank, on the WPK Central Committee.
But despite the changes to Kim Yo-jong's rank in the party, her status as younger sister and close confidante of leader Kim Jong-un means that she'll probably continue advising her brother on the affairs of state and managing South Korean policy, experts say.
The very fact that Kim sent this message to South Korea, via the statement, shows that she's still serving that role. And despite her party demotion, the KCNA printed a photo on Jan. 13 showing Kim sitting close to her brother at the WPK Congress's closing ceremony on Jan. 12, just as she did in the opening ceremony.
South Korea's Joint Chiefs of Staff (JCS) made the following comments on Jan. 11. "Our military captured evidence that North Korea held a military parade in connection with the WPK Congress at Kim Il-sung Square in the early morning hours of Jan. 10. This is being closely monitored [by the South Korean and American intelligence services."
North Korea had announced a "commemorative event" for the WPK Congress without publicizing the schedule of the military parade. The South Korean military had predicted it would be held "before the weekend."
By Kim Ji-eun, staff reporter, and Lee Je-hun, senior staff writer
Please direct comments or questions to [english@hani.co.kr]
ⓒ 한겨레신문사, 무단전재 및 재배포 금지