IT
Samsung Electronics and LG Electronics are facing historically-high inventory levels as demand for electronic devices weakens and the world finds itself awash in everything from smartphones to appliances.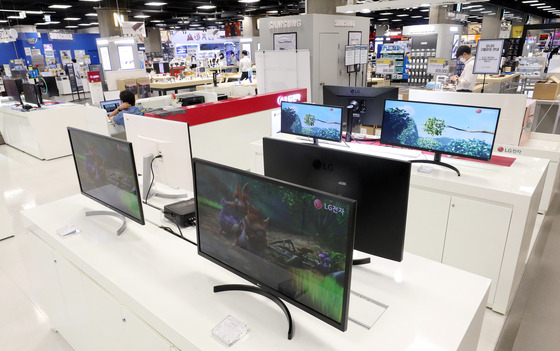 Samsung Electronics and LG Electronics are facing historically-high inventory levels as demand for electronic devices weakens and the world finds itself awash in everything from smartphones to appliances.
The flip from dearth to glut could have a wide-ranging impact. Companies are cutting orders from parts suppliers. Workers are getting fewer hours and losing their jobs. And earnings and balances sheets could be hit.
Samsung Electronics, the world's largest manufacturer of televisions and smartphones, carried 47.6 trillion won ($36.6 billion) of inventory in the first quarter, up 55.4 percent on year.
The figure, which has been reported by the company since 2000, is an all-time high.
LG Electronics had 10.2 trillion won of inventory in the same period, up 27.7 percent on year.
The excess inventories suggest lower-than-expected sales of smartphones, televisions and other home appliances as people struggle to afford necessities as prices increase rapidly. Sales might also be affected by increased outdoor activity as the pandemic come to an end.
Problems have been compounded by stockpiling and overproduction as companies anticipated huge demand due to economic recovery and revenge spending.
"A combination of inflationary pressure, the prolonged lockdown in China and geopolitical tensions in Eastern Europe has driven down consumer sentiment," said Kim Ji-san, an analyst at Kiwoom Securities.
"With the weak demand, the inventory levels turned higher and manufacturers have reduced orders," from suppliers, the analyst said.
Samsung Electronics has shortened the number of working days from five to three at its smartphone manufacturing facilities in Vietnam, according to multiple media reports.
The number of Samsung Electronics smartphones held by retailers and wholesalers has hit 50 million, according to local media reports. Many of the products in stock are the Galaxy A series device, which are budget products.
Park Hyung-wou, an analyst at Shinhan Financial Investment, projects that the tech company has lowered the production target for 2022 by 10 percent to 270 million devices.
Display inventories are particularly high as pandemic-driven demand declines.
"Throughout the display value chain, the surge in demand generated during the pandemic's early days, combined with shortages and transportation problems, set in motion a path toward building a mountain of inventory," said Bob O'Brien, co-founder of market tracker Display Supply Chain Consultants (DSCC) in a report.
"Now that the pandemic demand peak has passed, that big mountain needs to be consumed before a normal supply/demand balance can be restored," he noted.
The report and other media reports said that Samsung Electronics has gone to great lengths to deal with the pile of inventory and is suspending procurement of parts and components from its suppliers.
"Samsung Electronics has notified all business groups to suspend purchases and control their inventory status," the DSCC report said. "Samsung has informed flat panel display makers in smartphone and TV markets that panel purchases will be halted."
The company sources liquid crystal display (LCD) panels from China's BOE and HKC.
An inventory glut at U.S. consumer electronics retailers indicates that the glut won't be wound down soon. Best Buy reported 74 days of inventory in the first quarter, about 14 days higher than normal, according to DSCC. Best Buy is among the top five corporate clients of Samsung Electronics.
Amazon's inventory hit a low of 22 days at the end of June 2020 but hit an all-time high of 57 days at the end of March, this year.
Anemic demand also raises red flags for the memory chips business, where prices move with the sales trend of consumer electronics devices.
Prices of dynamic-random access memory (DRAM) chips are expected to drop by 3 to 8 percent in the third quarter, according to semiconductor-focused market tracker TrendForce.
The DRAM market in the third quarter will be hit from weak consumer electronics demand resulting from the Russian-Ukrainian war and high inflation "which in turn led to an increase in overall DRAM inventory," said Avril Wu, assistant vice president at TrendForce, in a report.
The weakening demand will hit DRAMs used in PCs, mobile and servers, the report noted.
BY PARK EUN-JEE [park.eunjee@joongang.co.kr]