국제
North Korea was given less than four minutes of the total 27-minute address, reflecting the sour inter-Korean ties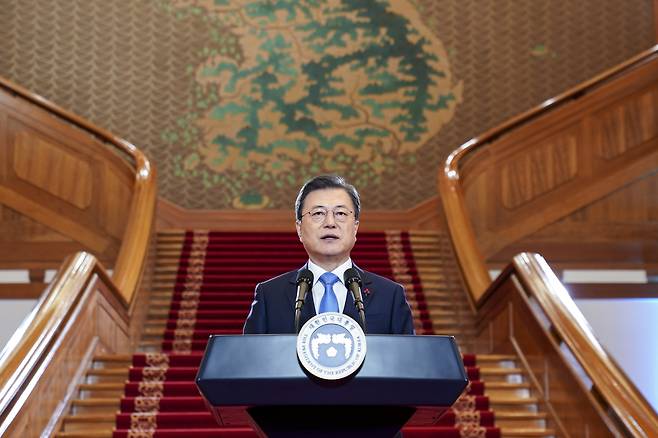 President Moon Jae-in reaffirmed his willingness to talk with North Korea in his New Year's address Monday, saying South Korea is ready to talk "anytime, anywhere and even in a non-face-to-face way."
"Dialogue and win-win cooperation are the key driving forces of the peace process on the Korean Peninsula," he said in a live broadcast from Cheong Wa Dae in Seoul. "Our will to meet (with North Korea) anytime, anywhere, even in a non-face-to-face way, remains unchanged."
Moon, entering his final year in office in May, also pledged to make a "last-ditch effort" to pull off a "great transition" in the stalled North Korea-US and inter-Korean talks.
The president's message for dialogue met with mixed reactions, as it came after North Korean leader Kim Jong-un vowed to advance his country's nuclear capabilities during last week's Workers' Party congress -- possibly in a chilling warning to the incoming Joe Biden administration in the US.
Despite the heightened nuclear threats, Kim hinted he wasn't ruling out diplomacy, saying he could adjust his policy direction to that of the new US government. He also left room for talks with the South, stressing "it all depends on the South's attitude." 
North Korea, which had dominated Moon's New Year's speeches in the past years, was given less than four minutes of the total 27-minute address, reflecting the sour inter-Korean ties, experts say.
"President Moon reiterated his existing principles, not specific ideas, this year. The overall manner appeared toned-down compared to previous years," said Shin Beom-chul, director of the Center for Diplomacy and Security at the Korea Research Institute for National Strategy.
As for the starting point of resuming inter-Korean talks, Moon proposed the North join a Seoul-led cooperative body dealing with COVID-19 and other health care issues in the region that was launched in September with the US, China, Russia and Mongolia. Japan is also mulling participation.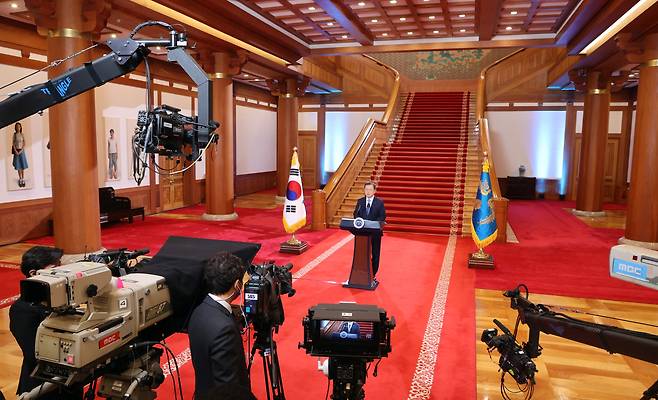 Shin, however, called the proposal nonsense because it had already been rejected by the North Korean leader for being "not essential," making it almost impossible for working-level officials of the two Koreas to continue related talks.
"Rather than repeating the already rejected proposal, Moon could have come up with a new, more concrete idea like resuming the talks on the inter-Korean joint military committee," Shin added.
Setting up an inter-Korean joint military committee, as agreed as part of the Pyongyang Joint Declaration, a result of the third summit between Moon and Kim in 2018, is aimed at reducing border tensions and preventing accidental clashes between the two Koreas. Related talks have been stalled since Kim's unfruitful summit with US President Donald Trump in Hanoi in 2019.
According to Cheong Wa Dae sources, Moon plans to hold a New Year's live press conference sometime next week, during which more details of his North Korean policy direction in the remaining year of his presidency are expected to be unveiled.  
Monday's speech, Moon's fourth as president, also touched on a range of pending topics here.
The president said the government will provide all South Korean people with COVID-19 vaccines free of charge, in phases starting next month. The government has secured vaccines for 56 million people, more than sufficient for the nation's population of less than 52 million, with the first batch arriving in February.
He also apologized to the public for the first time over the government's mishandling of soaring home prices. He hinted at a strategic shift in the nation's housing policy, from cracking down on speculative demand to increasing the supply of homes.
A new job creation plan was also unveiled. The government will inject 30.5 trillion won ($27.7 billion) in the first three months of this year with the aim of creating 1.04 million jobs for more vulnerable members of society hit hard by the recent fallout of the coronavirus pandemic.  
By Lee Ji-yoon (jylee@heraldcorp.com)
Copyrightⓒ Herald Media INC. All rights reserved.