국제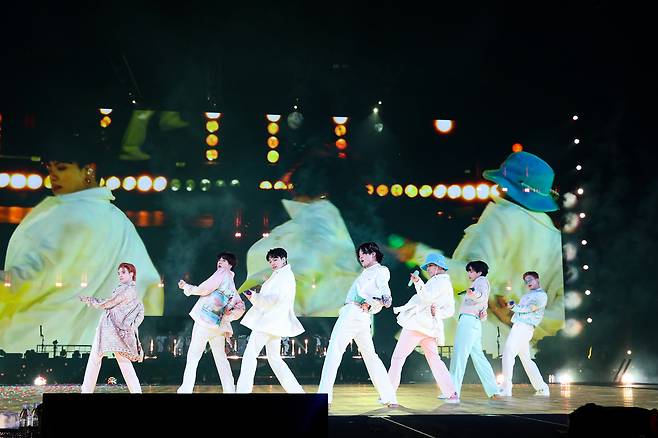 I remember the moment when I became a full-fledged Army: I saw screenshots of the "On" kinetic manifesto film on Twitter and was drawn in by the intensity of the visuals and choreography. So, I watched the music video and listened to the song, which was much different from the few BTS songs I'd heard of. As soon as Jungkook hit that high note during the bridge and they went into the dance break, I was a goner. Over the next year and a half, I went from listening (and crying) to "Map of the Soul: 7" to waking up at 4 a.m. to watch their virtual concerts to finally snagging tickets to their first two in-person concerts in LA.
After waiting in line for hours, I felt a tinge of fear as I sat down. What if the concert didn't live up to my expectations? Would they be as incredible as I thought they were? I tried to ignore it and focused on the pre-show music videos and excitement from the Armys around me. Then, after screaming through the first VCR, BTS finally appeared, and my fear melted away. They are here, and they are real, I thought to myself. Finally, the opening chords began to play, and I started screaming so loud that I thought my head might explode from sheer excitement. As impressed I was with the music videos for "On," nothing compared to the live performance. It's so hard to translate the energy of a live performance to a TV or laptop screen, and BTS pulled off incredibly successful online concerts. However, witnessing the precision of each dance move and the clarity of their vocals is completely different in person. After staying at home for months, singing my favorite songs along with BTS and thousands of Armys reminded me what it's like to feel alive.
There's something awe-inspiring about BTS's live performances. It's like watching a miracle, as they go into their intense choreography during "Fire," captivating the audience with their impeccable vocals and showmanship during "Dope," and finally greeting the audience during their opening "ment." While Army screamed at the top of their lungs -- trust me, I haven't been able to talk for days -- I'm pretty sure BTS matched our energy. I knew they missed performing in-person concerts, but to actually see them get hyped up.
I loved watching the members run around the stage, sit on a moving bed and couch and try to make each other laugh, and travel around the stadium to get up close and personal with ARMY. Seeing the choreography to Idol in person is a dream come true and the textbook definition of a good time. My favorite moment might've been when Baepsae came on and I watched the members have the time of their lives. Or it could've been when the opening notes of "We are Bulletproof: Eternal" came on and everyone struggled to hold back the tears. The sequence of "Blue and Grey" to "Black Swan," then "Blood Sweat & Tears" to "Fake Love" might be one of the most beautiful stages I've ever seen. Like I said, it's hard to pick a favorite when I can see how hard they've worked to perfect each and every dance move and musical note.
One of the many things -- many, MANY things -- I love about BTS is how each member brings a different energy to the table. RM's energy felt like it could take up the entire stadium, filling each seat with his power and freewheeling expletives. Jin brought so much charisma that he could convince me that he's the only person who could pull off singing high notes with a flower tied up at the top of his head. Suga's usual chill demeanor was replaced by that of a hype man, similar to J-Hope's typical ray of sunshine excitement, whose electric dancing is even better in person. Jimin's velvet-smooth dancing mixed with his angelic vocals and topped off with his bright smile could bring even the most stoic person to tears. V was a little mischievous, making the members and Army laugh at the most inopportune moments, yet never failing to captivate everyone with his gorgeous baritone. Finally, Jungkook's boundless energy and ability to hit every note with scary precision, even while dancing to such tough choreography, is simply astonishing. I'd be remiss not to mention all my fellow Armys, whose screams, singing, and fanchants created an atmosphere where BTS could feed off our energy and vice versa.
Other than actually seeing BTS, my favorite part of the weekend was meeting fellow Armys. Thanks to Kpop Herald, I got to talk to many people, ask them what they were excited for, and who their biases are. I loved asking people what BTS meant to them and hearing how this group has changed their lives. Hearing everyone's answers made me really think about what BTS meant to me.
What does BTS mean to me? BTS means happiness for the times I'm feeling depressed. BTS means healing when I need catharsis. BTS means community for when I felt so alone during the past two years. BTS is for the good days and the bad ones too. Their music is always there for me, and this concert solidified all of that. Someday soon, I'll regain my voice and start sleeping at a normal, East Coast time, but I'll never forget PTD On Stage. Thank you for an unforgettable weekend, BTS and Army. You will live in my heart forever.
By Samantha Tan (samanthatan178@gmail.com)
Samantha Tan is a writer, arts advocacy coordinator, and BTS ARMY based in Delaware, USA.
By Korea Herald(khnews@heraldcorp.com)
Copyrightⓒ Herald Media INC. All rights reserved.